Travel
7 Reasons to go for Trekking in Nepal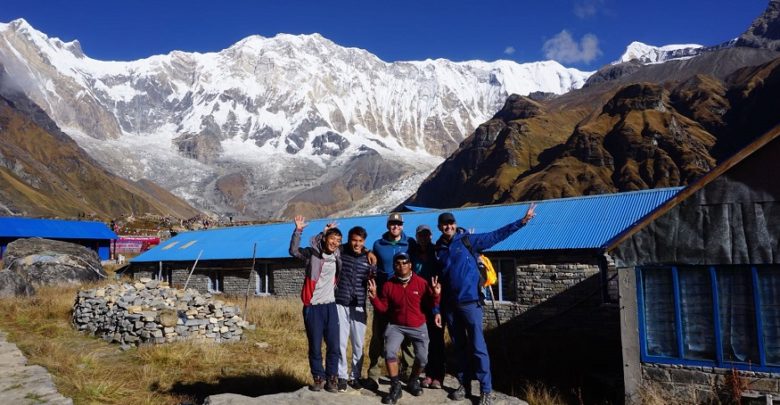 There are countless reasons to go trekking in Nepal. Trekking in Nepal is an activity that allows you to get close to nature by taking a break from the mundane city life. By going on a more adventurous trekking journey, you give yourself that kick of adrenaline that has been missing from your life for so long. Listed below are a few of the basic reasons why someone should go trekking in Nepal. You're sure to find them convincing enough to visit Nepal on your vacation.
Cultural and Religious Heritages
During trekking in Nepal, no matter what trekking destination you choose, you're bound to come across few of the most interesting cultural and religious heritages. In the mountains, Buddhism has a great influence. So, most of the trekking routes lead you to significant gompas and monasteries. For instance, Langtang Valley trek leads you to Kyanjin Gompa, Everest Base Camp trek leads you to Tengboche Monastery. A few of them also allow you to cover major temples, like Annapurna Circuit trek takes you to Muktinath temple. These are few of the major cultural and religious heritages of Nepal, and the only way to cover them is to go trekking in Nepal. Every year, devotees from far and wide make sure to visit these places, pray, and have their wishes fulfilled. Make sure to cover at least one of them during your trekking adventure.
Budget Friendly
Nepal is one of the most budget friendly places to travel to in the entire world. There are two ways you can trek in Nepal. Either you can do that with the help of a travel agency, or you can do it independently. Preferring the former option can make things easier, as you'll have the agency to take care of all your needs, however, the cost could go a little higher in comparison to the latter option. In case of the latter option, by choosing it, you can make your trip too affordable. By spending around $20 per day, you can travel across Nepal. But all the burden will come on you – from communicating with the locals to managing everything yourself. Since there isn't much difference in the cost, it is recommended that the travellers go with the former one. Everest Base Camp trek cost is offered at moderate rate, a 15 days long journey, all expenses covered.
Mountain Views
Mountain Views is one of the main reasons why people love visiting Nepal. Nepal is a country that is full of mountains. More than 30% of the entire land area of Nepal is full of mountains, and 8 of the 10 highest mountains in the world happen to fall in Nepal. It is a totally unique and sublime experience to stand face to face with these majestic beasts. The effect is more impactful when you're standing closer to them, and it is because of the same reason that a lot of people prefer going for base camp treks. This is one way of getting as close as you can be to the mountains without actually climbing on them. During trekking in Nepal, you'll get to enjoy the views of mountains such as Everest, Makalu, Kanchenjunga, Annapurna, Manaslu, Cho Oyu, Lhotse, Dhaulagiri, and so on. You'll be left speechless as you're mesmerized by these peaks.
Insight into the lives of Indigenous People
Nepal is one of the most diverse countries in the world. There is diversity in geography, in flora and fauna, in religion, in natural and man-made heritages, and so on. Most importantly, there is diversity in people. Studies suggest that there are 120+ communities living in Nepal that are indigenous to the country. These groups have their own language, customs and traditions, dresses, lifestyle, and so on. Despite all their differences, there is one thing that has brought them together, and that is the love for their motherland. Now, it may not be possible for you to come across or befriend people belonging to all these communities, but you'll definitely get a chance to communicate with a few of them during trekking in Nepal. These people, living in the hills of Nepal, are sure to impress you, as you get to know about their history and lifestyle.
Spectacles of Nature
If there is one thing that Nepal is known for all around the world, it's nature. Nepal is one of the richest countries in the world when it comes to the spectacles of nature. From living and non living things to locations, and so on, there are so many natural wonders that you'd surely come across during your visit to Nepal. Nepal takes up only 0.01% of the total landmass in the world, however, it houses 0.1% of all the animal and plant life in the world. This fact alone should tell you how densely populated the country is from the perspective of flora and fauna. During trekking in Nepal, you will come across so many lakes, like Gokyo Lakes, Gosaikunda Lake, Rara Lake, and so on, rivers like Kaligandaki River, Dudhkoshi River, glacier and icefalls like Ngozumpa Glacier and Khumbu Icefall, and so on. All these are significant natural spectacles.
Amazing Service and Hospitality
The people of Nepal are known to offer the best hospitality services. It doesn't matter what part of the world you're from, what religion you follow, whether you're poor or rich. When you've entered Nepal as a tourist, be rest assured that you will be given a special treatment. Nepal is one of the most preferred tourist destinations in the world. Nepal does have a lot of things to offer to the travelers – from natural and cultural heritages to numerous things to do. But apart from all these aspects, one of the reasons why tourists prefer visiting Nepal, and they do that time and again is the outstanding treatment that they get from the people here. These aren't just the people working in hotels and restaurants; these are also the locals and the street vendors. Good quality service and hospitality is one of the main reasons to travel to or trek in Nepal.
Outstanding Settlement Areas
You will come across a lot of interesting things during your visit to Nepal, However, one of the most significant and interesting ones among them are the settlement areas of Nepal. During trekking in Nepal, as you make your way through the hills and the forests, you will come across Himalayana villages. You can treat these settlement areas either as overnight rest spots or as meal spots. Situated in the lap of nature, these villages are visually stunning. The people in these villages have learned how to coexist with nature, and so, you will witness a remarkable balance here. The settlement areas in the hills of Nepal are gifted not just naturally, but religiously and culturally as well. Villages like Namche Bazaar, Gokyo, Manang, Jomsom, Langtang, Syabrubesi, and so many others will certainly make you want to stay there itself.
Trekking in Nepal is an activity that should lure you to come to this paradise on earth called Nepal, and get lost in its natural beauty. No matter how long your holiday trip to Nepal is, you will never feel as if it's enough. Make sure to visit this amazing country during your holidays.