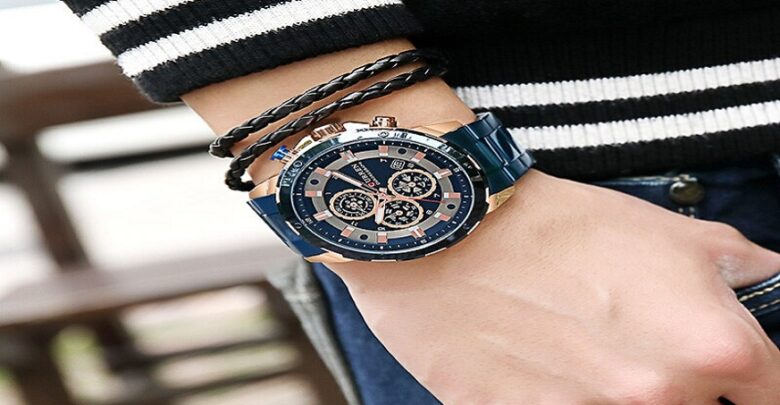 The vast collection of day-to-day and luxury or high-end watches in shops and on online platforms has become a tedious task. One should buy a watch that compliments their personality and style can be one of the hardest selections to make. It is okay if someone has no understanding or very little knowledge about buying a watch this article will provide you with ultimate guidance to buy ideal men's watches.
Firstly, coming to budget and comfort:
Comfort should be the first thing that one should think about while buying a mens watch. A watch with tons of features and looks amazing but if it is not comfortable then a person shouldn't buy it cause in the end, they might not wear it. Consider oneself's wrist size and see which suits best like a small dial or an oversized one. Lastly budget also matters a lot while buying. However, one should not compromise on quality and comfort looking at the price tag.
Analog watches are the most traditional or common type of watches which look elegant compared to any digital watch. This time is displayed through hands like the hour hand, minutes hand and second hand. In this type of watch, you get tons of varieties, collections and different designs. They are the most long-lasting and suit all types of occasions which attracts all the buyers to purchase.
Watch motion: Quartz or mechanical:
Quartz is one of the most used types of machinery used in watches and it is well known for its correctness and longevity. If comparing quartz watches with mechanical ones, quartz is the preferred one as it is inexpensive and feasible for men to buy. While mechanical watches are working on basis of mechanical parts. It can be either hand wound or automatic. The mechanical watches are expensive. Mechanical watches are the new classical watches and even automatic watch are the new stylish watches which surely please the eyes as well as look elegant and can be opted for any occasion. An automatic watch is completely mechanical and does not require any manual winding. Quartz watches work on basis of a battery.
Men have a lot of options in this too. They can select according to their usage or the occasion they want to wear. For daily wear, one must opt for simple straps which are light in weight, durable and comfortable to wear. Leather bands and even stainless- steel bands are very trendy. A good quality strap will ensure the longevity of the watch and won't even fall off your hand. A strap should also be chosen by checking if it's comfortable, durable if it's flexible, waterproof and sweat proof. There are a lot of options of watches for men like luxury watches, formal watches and even sports watches, GMT watches. Anything can be opted according to one's need and want.  Luxury watches are precious and like a one-time investment for men. They are not very loud or gaudy but simple and elegant, which can be liked by anyone at first glance only. They have good technical innovations.'
It is vital for people to be clear about the best and the most reliable brands in the industry so that everyone will be at the forefront in terms of making the best decisions. This will be helpful in providing people with a good hold over the best possible purchasing decisions and further one can have access to the durable and aesthetically good products.
Looking at the above tips and gaining some knowledge and keywords about watches, considering them one can easily without any fuss go ahead with buying watches.